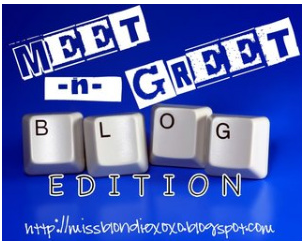 Morning guys! I am linking up with the fabulous Michelle over at
A Little Bit of This & That
today in her Meet and Greet that she's doing for the next 2 weeks. The point of this link-up is to kind of introduce yourself to newer readers to your blog and show them where your blog started, etc.
I love this idea! There's so many great blogs I've just recently found and I'd love to find out more about each of them, so I thought I'd do the same. Plus, I've had some new readers over here and wanted for you to get to know me a little bit better.
1. Introduce yourself and your blog. When did you start blogging? Why did you start blogging? What do you love about blogging?
My name is Kristen, I sign each post with Miss K because in high school and college a lot of my guy friends would call me Miss ___ (my last name) so I just took that idea from them. I'm sure you all know, but I just got married last month and a new journey is starting for me that I'm so excited and thrilled about. I'm also obsessed with eye candy, whether it's men, fashion, or beauty related.
I started blogging in May of 2009 as a creative outlet. I was always dishing out fashion/beauty advice and needed somewhere to let it out at. The beginning of my blog didn't really have a niche or a style and it's definitely come a long way. I tried at first not to post anything too personal, but that's what I loved about other blogs so I started posting about more personal things in the last year. Mostly just on Mondays with a weekend re-cap, but also dispersed throughout the week if there's something worth blogging about.
Blogging is seriously so much fun. I love it. I've "met" so many friends and found so many blogs that I just love. It's such a great resource too! Great fashion/beauty finds, how-tos, recipes (because we all know I'm a huge cook lol), reviews, etc. I love being able to connect with people across the world and getting to know them. I also love being able to express my own thoughts, reviews, etc with people who are interested in the same things as I am.
2. Share a list a blog posts that showcase who you are and give bloggers the chance to learn more about you.
Here's some of my favorite and somewhat embarassing posts I did about myself, my beauty products and habits fromt the very first to some more recent.
-This is my first post ever, some

Fun Fast Facts

about myself that are completely true and kind of gives you an idea of who I am in a nutshell. It's not a fun post because there's no pictures and EVERY post needs to have pictures, even if it's just one.
- Here is one of my favorite quotes,

Words to Ponder and Live By

, that really means a lot to me. I think it's important to think of your life both in the small and the big picture. This quote puts what I want to do and achieve in life in perspective for me.
- This post is where my

Celebrity Inspirations

first started and have evolved from. Online and in magazines, I'm always scoping out celebrities and what they're wearing, how their hair is styled and how they did their make-up so I can copy the looks. There's so much inspiration out there, you just have to open your eyes and closets.
- Friday is always the best day of the week because the weekend is offcially here! It's also when I post tons of pictures of hot guys. Here is the first

Hot Man Parade

, and this one if my most popular ever on the blog, a tribute to

David Beckham

.
-I first told everyone about the engagement

here

, our love story

here

, and the wedding pictures/posts will be coming soon!
- My

Hair How-To

and my

Eyeshadow How-To

, I hope to do more tutorials, hopefully in videos! I love seeing other tutorials and whenever I need to learn how to do a certain look, blogs and videos are the easiest way to learn!
-My make-up collection, aptly titled

These Are My Confessions

.
MAC is probably my favorite beauty brand, although I do love the cheapies, so I did a list of

My Favorite MAC Products

.
There's all the type of posts I think that help make LLP what it is and lets you know who I am as a blogger. I hope to constantly evolve as a blogger, but to stick with what makes it unique.
Thank you to every one of my friends and readers, your support has meant so much to me and I've loved getting to know you through your blogs. I've learned all about new products, places, and you individually. Please link-up if you get a chance, I'd love to get to know you all better!