This past weekend marked the start of summer!! Bust out your white bottoms, cut-off shorts, and sunscreen!
This also means that many of us will be vacationing and traveling all over. I went to Havasu over the weekend and had to re-vamp my packing style before I left.
Here are some helpful hints when packing:
1. Lay out everything you're taking with you, including accesories so you can visually plan what you need and see if one item can be used over and over again.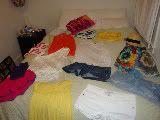 2. Pack all liquids in a plastic bag in case of spillage, Ziploc or one with a zipper works best (one time on a trip to Vegas, my vodka bottle spilled all over a white dress I had packed and left the "Albertsons" logo on it, luckily it came out and didn't stain). I also love these school bags i got from Target to keep jewelry, makeup, etc in.
3. If you tend to overpack like I do, roll your clothes. My dad, the Boy Scout, told me so. It helps save space and keeps clothes from wrinkling. Also, folding heavier items together sometimes works better (laying 2 pairs of jeans on top of each other and folding them in half together).
4. Shoes are the most difficult to pack because of their size or shape. Wrap them in plastic bags to keep your clothes from getting dirty and I use them sometimes as a divider between piles of clothes. *Stuff your socks in them also to save room in your bag.
5. Call your hotel to see what's available there; blowdryer, iron, ironing board, bathrobe, pool towels, fridge etc. This helps to cutt down on things you have to take with you.
6. Pack neutrals such as brown, black, tan, or white. Then pack accent pieces that go with the items. Pants should always be worn at least twice and dresses can always double as a swimsuit coverup later in the trip.
7. Write it down! Make detailed lists of everything you plan to bring. That way you can easily see if you've allotted six pairs of pants for a four-day trip. Be honest, note everything---including socks and underwear---and then stick to your list when packing. I do this for every trip, it helps to make sure you haven't forgot anything and I often email my list to others as a reference for them (no joke).
8. Wear your heaviest items so you don't have to pack them.
9. If traveling on a plane, pack an extra outfit in your carry-on such as an extra top or a swimsuit. That way, if your luggage is lost you can either lay by the pool or go to dinner until your suitcase is recovered.
10. On your suitcase, put your name and contact number on both inside and outside of your bag. My mom worked for the airlines for years and says this can be a lifesaver in finding and identifying lost luggage.
Any more tips? Have a fun summer! Travel safely and pack lightly!