I do!! She's one of my best friends and I love her!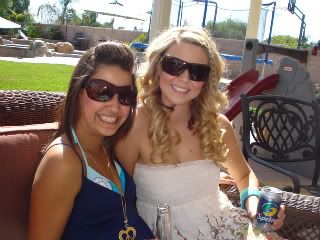 Here's why:
* Neither of us can sing to save our lives, yet we sing quite loud in the car. We even have "car appropriate" dance moves
* She's a great Beer Pong partner, she ALWAYS sinks the last cup
* She's awesome at all sports, even better than some boys I know
* She can't dance, and every time I tell her she looks good dancing she replies "I'm just copying your moves" Total self-esteem boost!
* She's a hippie
* She believes in going green and is always reminding people of ways to recycle or save Mother Earth
* Although she loves horror movies (which I will NEVER watch), she's afraid of ghosts
* Her style, she always looks great and wears things she likes regardless of the trend or opinion, which I admire
* She's a bad ass
* She's my sister (duh) and although she's my little sister, I look up to her. She has a kind heart, a great smile, knows how to have a good time, and like me, knows tons of useless facts.
* I love you Sister!!