You know, the holidays! Have you started your holiday shopping yet? I can't! Not because I'm physically not able to, or I don't have anyone to buy for, or even because I don't have the money. It's because I get so excited to give them the gift I can't wait that long! Do you have this problem? Like just the other day I bought my sister K a picture frame and I gave it to her as soon as I got home because I knew she would love it, and I bought the BF a sweater and I already gave it to him too, and it's not even cold yet!
Black Friday is only two weeks from tomorrow so I need to start getting my shopping list together. Did you read that correctly? BLACK FRIDAY IS 2 WEEKS AWAY!!
Once I buy said gifts for those I love, I will have to hide them at the BFs because he has much stronger will power than I and will not give them away left and right before the holiday.
If you are not one for 3AM shopping and shop online here are some great websites to search discounts, compare prices, or see who is giving a gift with purchase.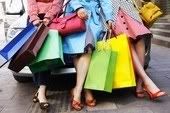 Retail Me Not- just put in the website you're ordering from and coupon codes and their reliability. *Right now they have a special section just for Black Friday sales
Ebates- what companies are giving rebates for items purchased
Shop Style- comparing prices? Just punch it the item you're looking for and it will bring up all the retailers offering it online and their prices (this is how I found my winter coat!)
Cheapism- Great website that compares high-end and low-end products to see if buying a name brand really matters for the item (ex: GPS, baby strollers, laptops, etc)