Introducing Ellie to food has been something we've been looking forward to and we chose to wait until she was 6 months before trying any solids or purees. As the 6 month mark approached, I began to feel nervous about what types of food to start with, how I wanted to introduce them, the order of foods to try, etc. Who knew feeding a baby would bring about so many questions? The only question I didn't have was that I wanted to make my own food.
Most of the women in my family have made their own food, my mother did with both my sister and I, and my sister in law did with both of her children. Then Kristin, of
Mama and Mou
has also posted a lot about it and I've emailed her a few times with different questions I had- she was a great resource and thanks again for all your help!
We started Ellie off with organic rice cereal and with her first taste, she wasn't a big fan of it (as you can see in the above pic!). The face she made was hilarious, and she was a good sport. She tried a few more bites before showing no interest and turning her head away. With her second taste, we couldn't feed her fast enough! The first few bites she would make a face, but still want more. I think she was just getting used to the new texture.
My SIL and I got together after a grocery store run, and she helped me steam and puree all my veggies for Ellie. We used the book,
Cooking for Baby
for reference on how long to cook items and how to prepare them (steam, boil, or bake and whether the peels/skin were ok) and in 2.5-3 hours time, we made enough food for several weeks! I couldn't believe how easy it was and couldn't imagine why anyone wouldn't want to do it. Now, I don't judge any mother for what/how she chooses to feed her baby, maybe making food doesn't appeal to everyone, so whatever floats your boat and works for your family.
The entire process was really simple, we would use a double boiler for most of the veggies (the butternut squash and sweet potato we baked), putting water in the bottom pot and the veggies in the top pot. After a few minutes we would check to see if the vegetables were steamed all the way through and were easy to pierce with a fork. If they were ready, we would pop them into the baby bullet and puree them to smithereens. Most of the veggies pureed thin enough on their own, but the peas, carrots, and green beans I had to add a little bit of water to get them to the right consistency. Once the veggies cooled down, I poured them into ice cube trays to freeze. Then after they were frozen, I popped them out and placed them in freezer bags with the date they were made. Each night I would place the amount of ice cubes for her serving in a bowl with a lid to thaw for lunch/dinner the next day.
We started Ellie off with vegetables and began with peas, then zucchini, butternut squash, yellow squash, carrots, sweet potato, and green beans. She has absolutely loved everything so far and thankfully, we haven't had any bad experiences either with tummy aches or rashes. This weekend we moved onto fruits starting with pears and apples. Unfortunately, there's not a large variety of fruit in season at this time so I've also picked up Gerber Organic Peaches in the meantime so Ellie can try a variety of foods. I've also started to mix some of the veggies together to create new flavors for her.
She's so funny, because you can't feed her fast enough. If you wait to give her another bite, she fusses and gets mad. I love it! We also give her Gerber Puffs and Baby Mum-Mums (which she loves) and have started to give her water with her dinner as well. Before officially starting on fruits, we have given Ellie a banana in a mesh eater and a sliced apple to gnaw on, both of which she did not care for whatsoever. They were both new textures and are much sweeter than the veggies we've been giving her so I'm not surprised at her reaction. We will just keep trying new things to get her used to a variety of flavors and textures. Our experience so far has been really good and fortunately, Ellie has been a great eater. She's loved everything we've actually fed to her and has been a great eater. I hope she stays this way and I look forward to the time when I can just give her smaller portions of what Matt and I eat.
Right now she still drinks the same amount of milk as before, that has not weaned yet. She sometimes has rice cereal in the mornings, and sometimes not. Just depends on how our mornings go and how long of a nursing she gets when she wakes up. She eats lunch at daycare and 3-4 bottles, then Matt and I feed her dinner while the other one is cooking. After she eats her dinner, she gets some puffs, mums, and a bottle of water while we eat. We've tried giving her sippy cups at dinner, but she hasn't got the hang of how they work yet so for the meantime we're just giving her a bottle with water for now.
Here are some of my favorite food items so far: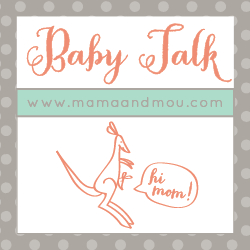 Be sure to check out Mama and Mou today
,
I have a guest post up about my baby blue experience! I'm so honored to be featured. If you have a little one, be sure to link up every Tuesday!