Here is a list of awesome products I use that you can find at your local store (Target, Wal-Mart, Rite-Aid, etc). My girlfriends and I always talk about new products we've tried and what works and what is just a waste of money. I thought I'd share my list and see if there's anything you guys can add!


Maybelline Colossal Volum' Mascara

This is my favorite mascara ever! When I first used it, I think I called 3 people to tell them how great it is. I love most Maybelline mascaras because they go on well and are not dry or flaky. Before I would use both the Full & Soft and then top it off with Great Lash, but now I find that the Colossal does it all! (Full & Soft and Great Lash are both amazing mascaras and I still recommend them).
Maybelline Dream Liquid Mousse Foundation

I just started using this foundation, and I really like it. It blends easily, absorbs well into the skin without giving a flaky look, and looks natural. It's also lightweight and not oily like other brands I've tried. The only con is the bottle, you have to pump out the product so when it gets low you have to take off the top and scrape the sides with the pump which is annoying.


Neutrogena Makeup Wipes
These are amazing and can get ALL of my makeup off with one sheet-even when I use primer and wear lots of mascara & dark eye shadow. The Boyfriend always tells me that I smell good after I use one, so that's always a plus.*The Target brand also works really well also, there's only a dollar or less difference between the two

Neutrogena Clear Pore Cleanser/Mask
Of all the face washes I've used over the years, this one seems to actually work. I leave it on while I condition my hair and I can literally feel it tingle. I use it everyday and it has never dried out my skin. I've tried the store brand knock offs of the Neutrogena and Clean & Clear brands and unfortunately, I never feel like they actually work. I still have makeup remains afterwards and I don't feel a "tingle" on my skin.

Target brand eye makeup remover
This is the L'Oreal wannabe, its considerably cheaper and works just as well.

Clean & Clear Foaming Cleanser
This is their new cleanser, they made the same product before but with a different look and I nearly cried when I couldn't find it anymore. My best friend S. and I both scoured local stores for any last bottles, no joke. It smells nice, and gets off all of my makeup in one cleaning. I even cotton ball tested this new kind with a cleanser afterwards and my cotton ball was clean! It works great on waterproof eye makeup as well, sometimes if you really have a lot of eye makeup on it may take two cleanings, but your face makeup will be gone. http://www.cleanandclear.com/cool-stuff.jsp
*if you click on the above website, you can download $5 coupon for Clean & Clear Advantage Blackhead Eraser or Acne Control Kit and $2 coupon for any Clean & Clear product.

Covergirl Eye Enhancers 1-Kit Shadows in Shimmering Onyx
Best black eye shadow I've ever come across at a local store. It has a little sparkle in it and is easy to blend, which really matters when doing a smoky eye.

NYC and Revlon Nail polish
NYC and Revlon Nail polish are my favorite brands! NYC is under $2 so I buy nearly every color they come out with. Both brands are easy to apply, most colors aren't runny (idk why light colors are so difficult to get perfect) and sometimes one coat is enough. My favorite shades for the NYC is 109A Pink Promenade, 242B Uptown and 133APurple Pizzazz. For Revlon I like Sweet Tart, Posh Pink, and Pink Freeze.
*Revlon has a limited collection of nail polish for the summer that smells when it dries! It really works too!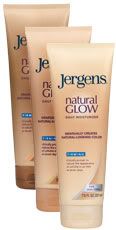 Jergens Natural Glow
I love this lotion! I use it when I'm already tan from the summer or a vacation and it really helps your tan to stay longer and deepen just a touch. I've never turned orange using this kind; my only complaint is that I wish they sold it in a larger size with a pump.

Jergens 3day Glow
This is the first self-tanning lotion I ever used. I saw pretty good results (not life changing) but did turn a tad orange in some spots, but luckily they disappeared with some scrubbing with a wash rag.
*It's best to use a self-tanning lotion with a 50/50 mix of regular lotion. It's easier to rub in and spread across your body and mixing it doesn't dilute the tanning formula.